 Blossomgate, Ripon HG4 2AJ
Call 01765 604856
or contact us using the form below
We can't wait to welcome you again!
From Saturday 4th July our doors will be open again although we'll be doing a few things a bit differently. The atmosphere will still be great, the service friendly and the food and drinks delicious, we'll just be doing a bit extra to keep everybody safe and well.
We will be operating table service inside and outside. We recommend making a reservation in advance to secure a table and avoid disappointment.
We will be taking contact details from you when booking or coming into the bar. This is for the government track and trace system. Well keep them secure and dispose of them after 21 days.
We will be following all social distancing guidelines and as such, all guests will be asked to remain seated at their tables and avoid coming to the bar if possible.
The largest group we can take is eight. Any group should be made of no more than two households.
There are fewer tables. We've spread them out a bit to give you more space.
You'll see a lot of hand sanitising going on, there's plenty to go round so you'll be able to do yours as often as you like.
You will find a small info card on your table explaining how were keeping you safe and what we ask you to do to help.
We hope to see you soon…
The Storehouse Bar & Eatery Team
Storehouse Bar & Eatery is a relaxed, social, neighbourhood bar and lounge serving a great range of cask and draught beers, carefully selected wines, cool cocktails and an impressive range of gins and spirits as well as interesting, informal food, wine & beer snacks designed for sharing and grazing.
Based in the old warehouse on Blossomgate, over two floors with an outdoor seating area, Storehouse is the perfect place to relax, eat and drink with friends and an ideal location to host social gatherings, groups, celebrations and private parties.
We host live music and comedy nights too – Check out who's playing here
Opening hours
Monday           Closed
Tuesday           Closed
Wednesday      5pm – 10.30pm
Thursday          5pm – 10.30pm
Friday                5pm – 11pm
Saturday          12pm – 11pm
Sunday             12pm – 6pm
Get in contact with Storehouse Bar & Eatery...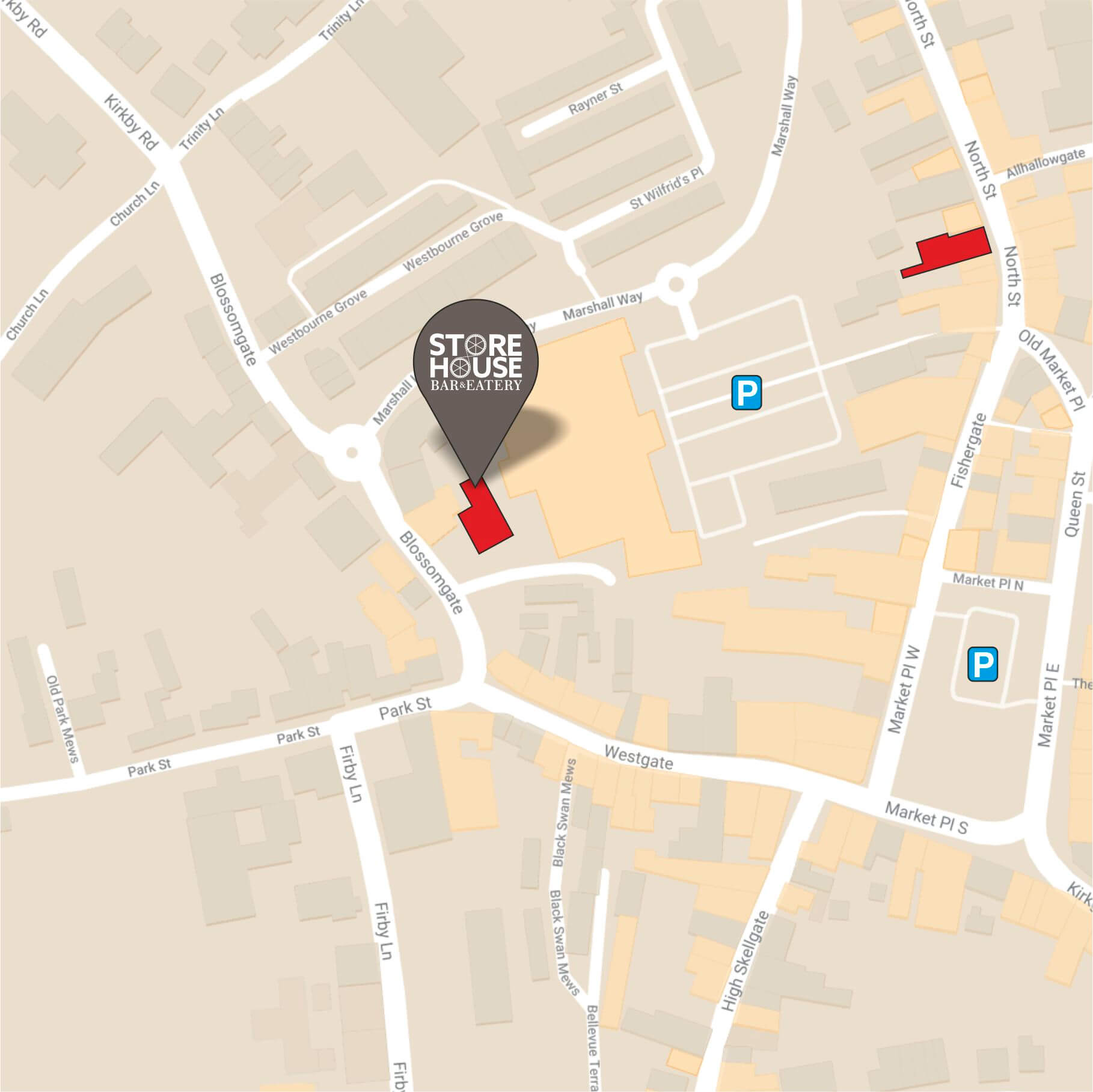 Storehouse Bar & Eatery
Blossomgate
Call: 01765 604856